Do you have those things that you bought knowing you would find a use for it and just couldn't let it go when you didn't? This tray has been that for me for 4 years now.
When I saw it in the thrift store years ago I thought it was fun and retro. However, fun and retro do not fit in my house. I almost gave it back to the Goodwill when we moved but something stopped me. I think it was this tray from etsy.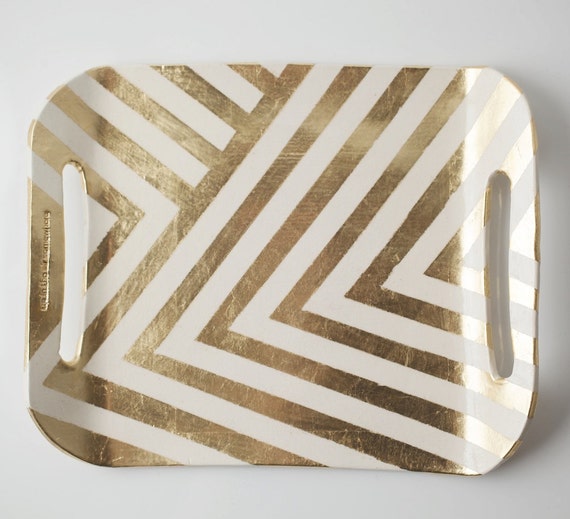 Isn't it gorgeous? Now my tray isn't that cool and I wasn't sure about the metallic but I have been loving mustard (the color not the condiment) and after my dresser revamp I had some left over so I thought, why not? It always starts with that doesn't it?
After painting a ridiculous number of coats of white paint on my tray I consulted with Daniel as to the direction of the stripes. He liked diagonal so that is what I went with. First I taped the whole thing down. I went for uneven stripe widths to make it a little funky but still refined.
I used painters tape but in my experience it is still difficult to get crisp lines. I remembered reading somewhere that a good way to get crisp edges was to seal them with the base color so I gave that a try.
Then a few coats of mustard later I had a new tray for the ottoman in the library (ignore the unpainted base boards, Daniel removed the baseboard heater and I haven't gotten around to it).
This is the closest color I could get but it still reads more orange on my screen. It is a really deep mustard and very high gloss.
The paint trick worked mostly. I still had some problems with the lip of the tray but that was more my fault than the paint. The only issue I ran in to was peeling some of the paint up when I removed the tape but it was an easy fix.
So there you have it, my tray did end up finding a home in my house. All it needed was a little make over. Anyone else hold on to things you just
know
you are going to need one day? It can't be just me!
Cheers!