I've been messing around with moving towards some fall decor so this weeks Fall Mantle Party was great motivation to get working on it.
Here she is all done up
I added a cute little pumpkin for my antique mail scale (which was Daniel's and once held a petrified bagel) and a twine wrapped votive (which was super easy and I will post a tutorial for later).
I also made up a few book page pumpkins and the twine wrapped glass filled with branches from my yard (again tutorial to come).
To balance out the orange pumpkin I added the butterfly for another pop of color. You know how much I love butterflies so I try to work them in to everything.
So there it is. A simple fall mantle which will probably get spookied up in a week or two as Halloween approaches.
Check out the rest of the lovely mantels over at The lettered Cottage's Mantle party and don't forget about the door decor party on Thursday.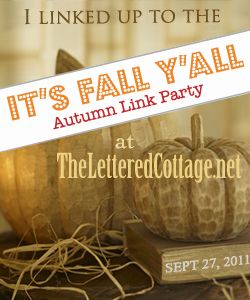 Cheers!
**Anyone in Seattle going to the Design Sponge event tomorrow? I'll see you there!